HANCOX NEWS
Jun 03, 2016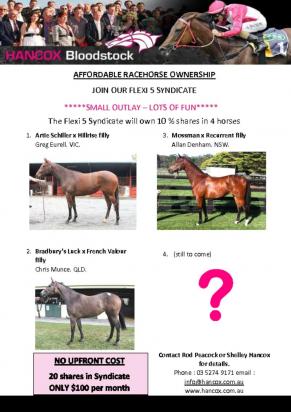 I was planning on sending out some tips for the big meeting at Eagle Farm tomorrow but with 100ml + of rain predicted I will be giving that a miss. It is a bit disappointing for the Club as this is their first meeting on the new surface after the redevelopment. Hopefully they get through the meeting. My tip - take an umbrella and back the Heavy Trackers Only.
Will keep ammo dry for Stradbroke next week.
---
Looking for 8 persons to join a syndicate to race shares in 4 different horses.
$0 up front and only $100 per month. (That is it - NO MORE TO PAY)
That is only $23 per week.
I had a really good response to our Flexi 4 syndicate - so much so that I have 12 of the 20 shares already taken up in Flexi 5.
If you would like to join our Flexi 5 syndicate please email me.
Flexi 5 already own 10% shares in;
1. Artie Schiller x Hillrise 2yo filly
2. Mossman x Recurrent 2yo filly
3. Bradbury's Luck x French Valour yearling filly
4. Fourth horse is still to come.
Small share in each horse but loads of fun for all involved.
SEE FLYER attached
---
If you are looking for a larger share in a racehorse check out the rising 2yo colt by Show A Heart x La Phillyharmonic on our FOR SALE page.
With the racing spotlight on QLD at the moment I thought we could stick with that - I can offer you a share in a super athletic son of SHOW A HEART to be trained in Brisbane by CHRIS MUNCE in Brisbane.
5% share $1995
$160 per month covers costs (Set Monthly Fee)
WINNING FAMILY
Dam won 4 races
2nd Dam produced 6 winners
3rd Dam has produced 8 winners.
Breeder is taking a share and has two friends taking shares.
A good sign!!!
Have a good weekend.
Rod Peacock